Aldi Food Market
For this project, I was challenged to take an already existing brand and revamp it's brand. For this campaign, we were prompted to include a new logo design, website design, product design, ambient tactic, and interactive tactic.
Strategy:
Position Aldi as the cheaper alternative for organic and healthy foods to younger generations who have yet to form brand loyalty with a food market.
Target:
Aldi's new advertising campaign will be targeting young adults (20-25) who have yet to develop brand loyalty to a specific grocery store. Our target audience makes an annual salary between $15k and $25K and wishes to spend their money primarily on experiences rather than products. Along with this, this audience cares a lot about what goes into their bodies and how their purchases effect the environment. This target audience needs a quick and economically friendly shopping option where they can trust to find quality organic food.
The new visuals for Aldi will be clean and young with nostalgic undertones. We will take the bright colors from the old designs and switch them out for cooler, more relaxed, natural blues and grays to appeal to the young yet maturing target audience. Through simple design components we will create a stable and reliable feeling store that will not only be popular among the target audience, but also a refreshing change for existing customers.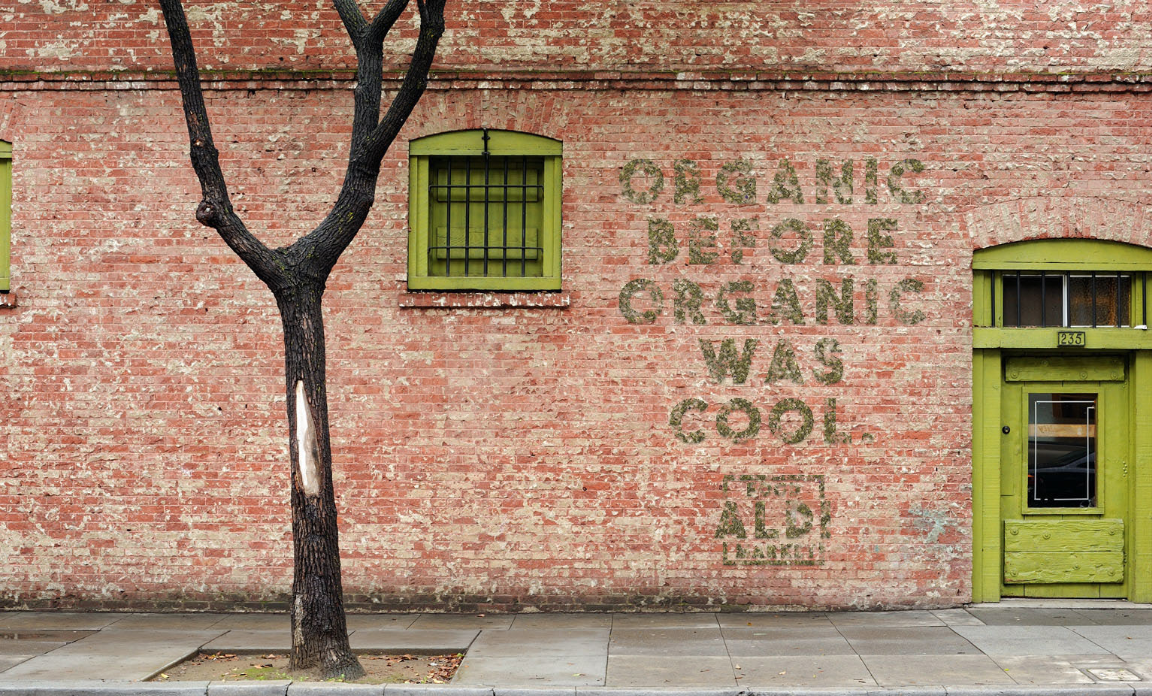 Ambient Tactic:
The ambient tactic for this campaign (pictured below) will be a twist on a classic wheat paste poster where the actual image will have moss and grass seeds imbedded into the fibers. Over time the poster will start to fade and the moss will begin to grow, exposing the original message from the poster through a living and organic matter. This tactic will be successful because a big trend in millennial culture is street art/street performance. Using moss as a medium, the campaign is able to give a nod back to Aldi's organic roots as well as create an eco friendly, lasting crowd stopper sure to turn up all over social media.Street art + quirky medium + eco friendly = success.
Interactive Tactic:
The interactive tactic for this campaign (pictured below) will combine cooking with Aldi's products with millennial endorsed "foodie culture". Aldi shoppers will simply prepare a meal with the products that they purchased, take a picture of it, and upload it to Instagram with the hashtag #AllAldi and the recipe for their dish. In return, all participants will receive a 10% off coupon for their next trip to Aldi. By doing this, Aldi will not only be capitalizing off of an already popular trend, but they will also secure repeat customers, inspire people to recreate the meals they saw online with Aldi's products, and keep a small business like feel through the interactions.